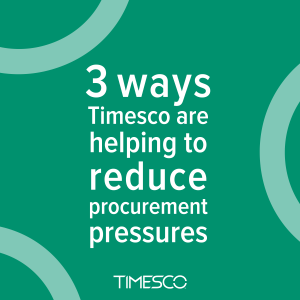 3
ways in which Timesco are helping to reduce procurement pressures
1. Reducing your workload & saving you time  
We know that procurement professionals in the healthcare industry are tasked with meeting high-pressure deadlines and juggling priorities.  
That's why we have a dedicated & experienced sales support team who can help reduce your workload by obtaining any information you require in a timely manner as well as providing you personalised options based on your requirements to help you make the best choices. 
We have an online resource centre where you can find literature, instructions for use & certification. We also have many quick online forms to save you time when you require samples or information. Such as a TourniButton sample request form and a TourniButton cost savings calculator.
We also appreciate that in the current circumstances many of you may still be working from home, which can have its challenges especially when trying to juggle a work / home life balance. We are here to help. Give us a quick email or call and we will help reduce some of your challenges wherever we can. 
These solutions are there to allow you to spend less time searching for information – which we hope gives you a little bit more time to help you tackle the many other tasks on your to-do list.  
2. We care about your patients  
Your patients don't want their care to be compromised so we do not compromise on quality, service, or specification. We know your commitment to patient care matches ours, so you can rest assured on the quality of our products. We have been trusted with manufacturing and supplying medical products to medical professionals around the globe for more than half a century – and with good reason. As a leading supplier to the NHS and private sector for Anaesthesia, Surgery, Podiatry & General Medical products, we control every aspect of our product and service offering. Our dedication to providing the highest quality products, shown by our 99.8% first time quality inspection pass rate, together with a level of service that is second to none ensures that you can spend your time and effort on what is most important, patient care. 
3. Saving you money 
Timesco offers exceptional quality products at extremely competitive prices. Many of our products are available via the NHS supply chain, which offers NHS procurement teams convenience and competitive prices. While we care about our customers receiving the best quality of products and service that we can offer, we know there are budgets in place, and we do our best to reduce costs wherever possible. 
Get in touch with us to see how we can help you: 
Call us on +44 (0) 1268 297700 or email us at [email protected] 
Alternatively, use our live chat function on our website: timesco.com