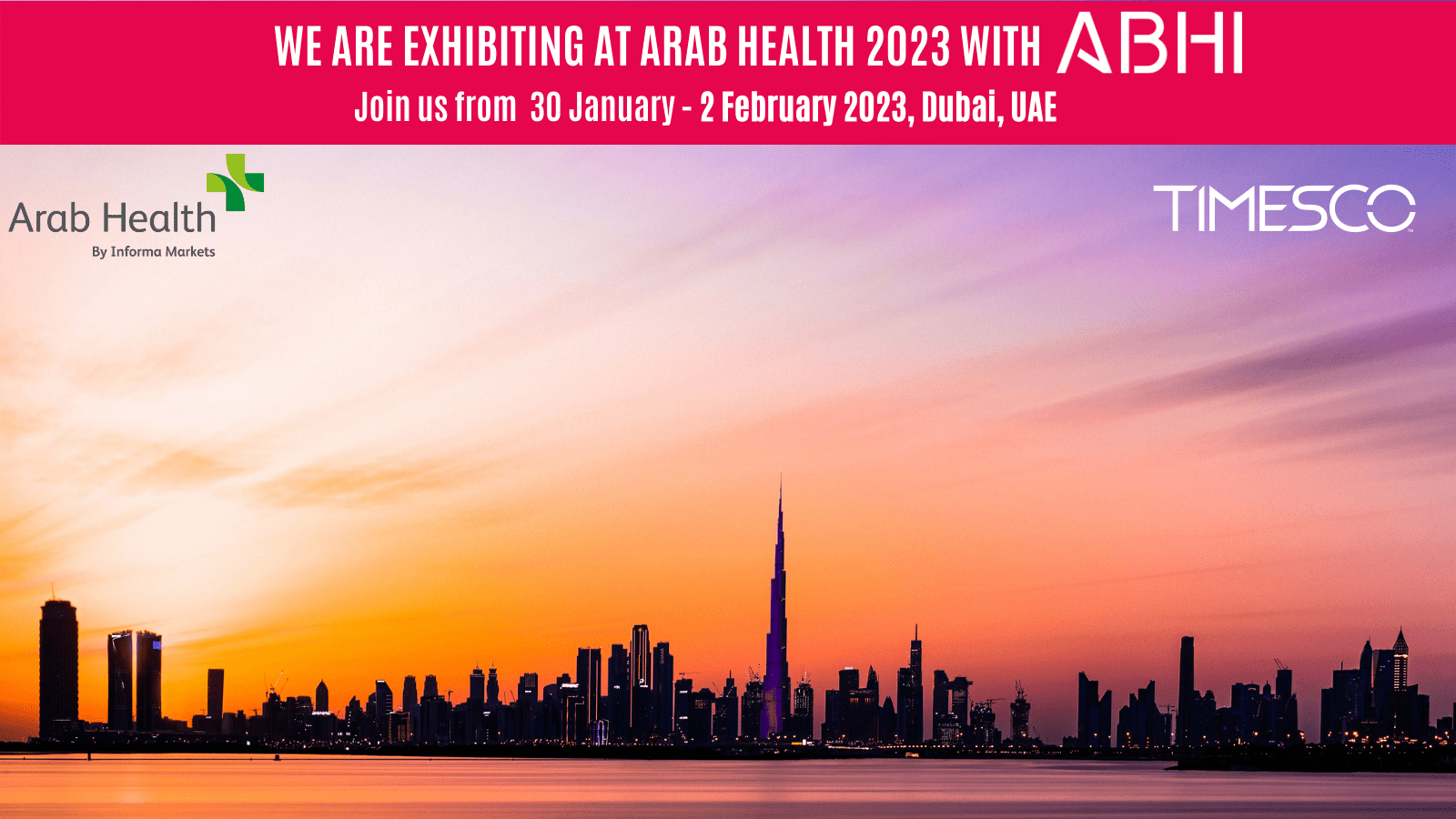 Timesco Healthcare Joins ABHI UK Pavilion Showcasing Strengths of UK HealthTech at Arab Health 2023
Timesco Healthcare is delighted to be joining the Association of British HealthTech Industries (ABHI) UK Pavilion at Arab Health 2023, which is taking place from 30th January – 2nd February 2023 in Dubai.
The exhibition – the largest event of its kind in the Middle East – brings together the healthcare world to network, share experience and do business.  Last year the event brought together 80,577 healthcare professionals from 184 countries.
As Arab Health marks its return on the health technology calendar in January 2023, the Association of British HealthTech Industries (ABHI) will again be leading the UK's most visible Pavilion of health technology companies. This year, leading healthcare businesses, renowned hospital groups and esteemed clinicians from world-leading clinics will be amongst the UK delegation travelling to the Middle East to showcase 'the very best' of UK HealthTech.
Timesco Healthcare is a leading supplier to the NHS, private sectors and international markets utilising our vast range of Anaesthesia, Diagnostics, Surgical Instruments and General Medical products. We're delighted to be showcasing products supplied to medical professionals globally for over half a century. Partnering with our trusted partners the ABHI will provide the nexus between Timesco and our Middle East partners throughout the region. We aim to further service and support the Middle East healthcare bodies to provide top quality patient care with Timesco by your side. Please feel free to get in touch if you would like more information about how we can support your requirements.
Taking place at the Dubai World Trade Centre, the Arab Health Exhibition & Congress provides an unrivalled platform for the world's leading manufacturers, wholesalers and distributors to meet the medical and scientific community from the Middle East and beyond.
Organised by the ABHI – the industry association for the health technology sector in the UK – the ABHI UK Pavilion will highlight how UK developments are transforming the lives of patients and clinicians across the globe.
As usual, the centrepiece will be a simulated operating theatre, which will bring together leading UK hospitals and clinicians to showcase surgical procedures using the latest medical technologies. The ABHI Operating Theatre, housed in the ABHI support stand, will provide a platform for world class UK clinicians to showcase their skills and leading providers to engage and educate visitors.
Paul Benton, Managing Director, International, ABHI, said:
"The UK brand is incredibly well respected in the Middle East, and Arab Health represents a prime opportunity for UK HealthTech innovators to connect with procurement professionals from across the region and beyond to support patient care.  We are proud to once again be hosting an outstanding line up of some of the industry's finest players, providing them with a platform to showcase how their technologies and innovations can help tackle some of the biggest challenges in modern healthcare."
At Arab Health 2023, attendees will be able to see what makes UK health technology world-class by visiting the ABHI Pavilion, which will host exhibitors showcasing the very best of UK HealthTech.
Exhibitors on the ABHI UK Pavilion benefit from a comprehensive package of support and visibility, pre-event and onsite.
Arab Health 2023 will be taking place from 30th January – 2nd February in Dubai, UAE.
For more information visit: https://ukhealthcarepavilion.com/events/arab-health-2023/
To book an appointment with Timesco at Arab Health click here: https://ukhealthcarepavilion.com/companies/timesco-healthcare-ltd/meet/
Follow us on our socials for regular updates on this show as well as other shows we are attending:
LinkedIn
Facebook
Twitter
Instagram
A bit more about ABHI
ABHI is the UK's leading industry association for health technology (HealthTech).
ABHI supports the HealthTech community to save and enhance lives. Members, including both multinationals and small and medium sized enterprises (SMEs), supply products from syringes and wound dressings to surgical robots and digitally enhanced technologies. We represent the industry to stakeholders, such as the government, NHS and regulators. HealthTech plays a key role in supporting delivery of healthcare and is a significant contributor to the UK's economic growth. HealthTech is now the largest employer in the broader Life Sciences sector, employing 131,800 people in 4,060 companies, with a combined turnover of £25.6bn. The industry has enjoyed growth of around 5% in recent years. ABHI's 320 members account for approximately 80% of the sector by value.
Recent News