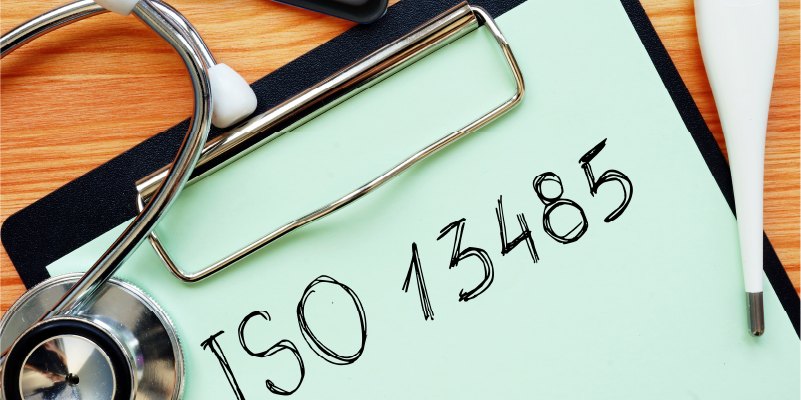 26 Years of Continuous ISO Certification
Timesco, a leading provider of medical devices, proudly celebrates 26 years of continuous ISO certification. As the company upholds ISO 13485:2016 and EN ISO 13485:2016, it is essential to understand the significance of these standards in the medical device industry and the differences between ISO 13485:2012 and ISO 13485:2016. Additionally, we will explore how ISO 13485:2016 differs from ISO 9001:2015.
---
What is ISO 13485:2016 standard?:
ISO 13485:2016 is an internationally recognised standard specifically developed for the medical device industry. It sets out the requirements for a quality management system (QMS) to ensure the consistent design, development, manufacture, and distribution of medical devices. Compliance with ISO 13485:2016 demonstrates a company's commitment to meeting regulatory requirements, improving customer satisfaction, and ensuring the safety and efficacy of medical devices.
This prestigious certification validates Timesco's commitment to maintaining the highest standards in its operations. It signifies that the company adheres to stringent quality control processes, regulatory requirements, and best practises in the industry. With ISO 13485:2016 certification, Timesco ensures that its products consistently meet customer expectations and comply with relevant regulatory guidelines.
What sets Timesco apart is its long-standing record of holding ISO certification since 1997. This remarkable achievement highlights the company's dedication to quality and its ability to consistently meet the evolving needs of healthcare professionals. Over the years, Timesco has strived to enhance its quality management systems and refine its processes to deliver safe and reliable medical devices.
---
Looking Towards the Future:
Timesco remains steadfast in its pursuit of excellence and its commitment to upholding the ISO 13485:2016 and EN ISO 13485:2016 certifications. The company will continue to invest in innovation, research, and development to provide cutting-edge medical devices that address the evolving needs of healthcare professionals and improve patient outcomes. While meeting our commitment to sustainability, Timesco aims to lead the way in delivering high-quality medical solutions.
The recent changes and improvements in Timesco's Quality Management System (QMS) following appointments to the Quality Assurance and Regulatory Affairs (QARA) team have been instrumental in driving the company forward. The positive feedback received from healthcare professionals and distributors is a testament to the team's vision and unwavering commitment to excellence. Timesco strives to stand out from the rest of the field by continuously improving its processes, embracing innovation, and delivering superior products and services.
Timesco's 26-year journey of ISO certification showcases its unwavering dedication to quality, customer satisfaction, and regulatory compliance. As the company looks ahead, it remains committed to pushing boundaries, setting new industry benchmarks, and making a positive impact on the healthcare landscape.
---
What does ISO 13485 stand for?:
ISO 13485:2016 (International Organization for Standardization) certification is crucial for medical device manufacturers as it signifies adherence to stringent quality management practises. It encompasses various aspects of the medical device lifecycle, including risk management, regulatory compliance, product development, and customer satisfaction. By complying with ISO 13485:2016, Timesco demonstrates its commitment to delivering safe, reliable, and high-quality medical devices.
---
What is the difference between ISO 13485:2012 and ISO 13485:2016?:
ISO 13485:2016 is an updated version of ISO 13485:2012, incorporating several important changes. The key differences include:
Risk-Based Approach: ISO 13485:2016 emphasises a risk-based approach throughout the entire quality management system. This includes risk assessment, risk management planning, and risk control processes.
Enhanced Supplier Controls: The updated standard places greater emphasis on supplier controls and the evaluation of supplier performance to ensure the quality and reliability of components and materials used in medical devices.
Lifecycle Perspective: ISO 13485:2016 emphasises the entire product lifecycle, including post-market activities such as surveillance, complaints handling, and product discontinuation.
---
What is the difference between ISO 9001:2015 and ISO 13485:2016?:
ISO 9001:2015 is a general quality management standard applicable to all industries, while ISO 13485:2016 is specific to the medical device industry. The main differences between the two standards include:
Regulatory Focus: ISO 13485:2016 has a stronger regulatory focus, ensuring compliance with specific requirements for medical devices, whereas ISO 9001:2015 has a broader focus on quality management across various industries.
Product Safety and Risk Management: ISO 13485:2016 places more emphasis on product safety and risk management due to the critical nature of medical devices, while ISO 9001:2015 focuses on general quality management principles.